News
Some exciting news : A new Linguistics Program launches
July 1, 2015:
The CAS Linguistics Program now unifies degree offerings at the BA, MA, and PhD levels. This website will be reorganized in the near future to reflect the change. In the meantime, information about the graduate programs in Applied Linguistics can still be found here: http://www.bu.edu/applied-linguistics/. If you have any questions about Linguistics at BU, don't hesitate to contact the Program Director, Prof. Carol Neidle, or the Associate Director and Director of Graduate Studies, Prof. Jonathan Barnes. Thanks for your patience as we reorganize the website.
BULA - Welcome Meeting
Everyone is welcome!

Come to the BU Undergraduate Linguistics Association's Welcome Meeting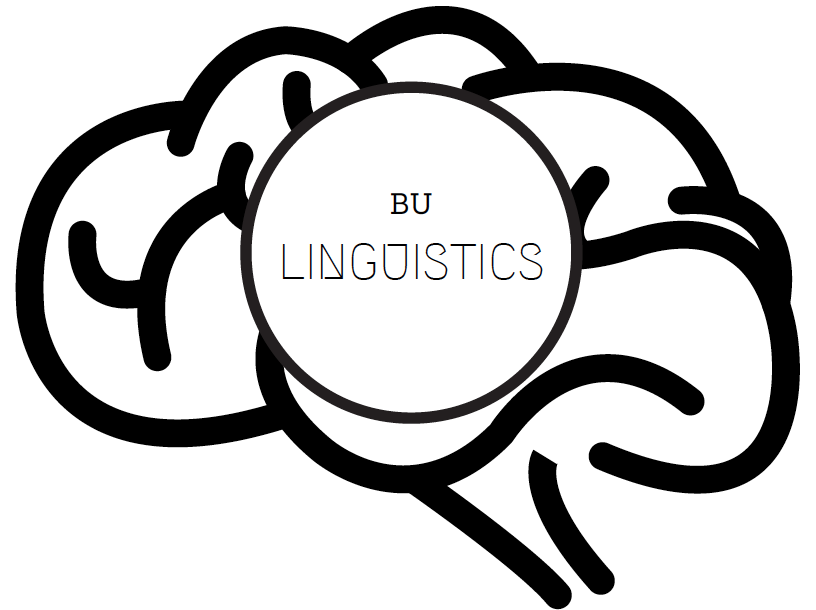 Thursday, September 17, 2015
from 5 to 6 pm in
621 Commonwealth Ave., room B02

Meet other students interested in linguistics and help decide on activities
for the coming academic year!


Check out the BULA Facebook page, too!



Undergraduate Open House: October 1, 2015
Current and prospective undergraduates interested in (or curious about) linguistics are welcome!  Come find out more about course offerings, the Linguistics major and minor, joint majors with French, Spanish, Italian, Japanese, and Philosophy, study abroad options, and career opportunities.  Get to know fellow students and Linguistics faculty members, and learn more about the BU undergraduate Linguistics Association (BULA).
Refreshments will be served.               Drop by any time.
This is also a Facebook Event (RSVP appreciated but not required):  
  https://www.facebook.com/events/612203722254941/
BU Linguistics Colloquium Series
Further details to follow soon, but save the dates!

Courses for Fall 2015
Here is a printable brochure with course listings and descriptions for Fall 2015.

Course schedules and descriptions are also posted on the Web :
New course flyers for Fall 2015
Three new courses for fall
Linguistics majors who qualify are invited to apply for admission into the Honors program. There are also honors programs available for the various Linguistics joint majors (described here). Those of you who are not yet juniors might consider applying in the future.


The Linguistics Honors program requires 14 courses (rather than 12, as for the standard major), to include 3 at an advanced level; these must be completed with a GPA of at least 3.7. Students who complete the program successfully will graduate "with Honors in Linguistics."
Honors program application forms: Linguistics, Linguistics & Philosophy, French & Linguistics, Italian & Linguistics, Japanese & Linguistics, Spanish & Linguistics. [Applications for admission as of Fall 2015 will be accepted from 4/25/2015 to 9/10/2015 for students who will be graduating between January 2017 and September 2017 (inclusive).]
A variety of co-curricular activities will be organized for program participants. Complete details are available from this page: http://www.bu.edu/linguistics/UG/honors/honors-for-ling.html. Students who may be interested in this program are also strongly encouraged to discuss this with their faculty advisor and/or Prof. Neidle.
We welcome Prof. Charles Bond Chang !!
See Prof. Chang's video introduction from last spring! And learn more about him from his profile page.


Fall Workshop: Quantitative Methods in Linguistics
This coming semester, Professors Daniel Erker and Jon Barnes will be running a workshop on quantitative methods in linguistics in which they will lead hands-on demonstrations of a range of techniques and topics. These will include 1) creating, organizing, and managing linguistic data, 2) visualizing data through graphics and images, and 3) conducting significance tests and building regression models. All of the demonstrations will be done using R, a free software environment for statistical computing and graphics.

No background in statistics or computer programming is required. The workshop is open to all Linguistics graduate students, undergraduates in the honors program, and interested faculty. (If you are an interested undergraduate who is not in the honors program, please contact Professor Erker to discuss the possibility of participating in the workshop.)

The workshop will meet every other Tuesday from 4 to 6 pm in BRB 121 (with one exception on account of a BU Monday that falls on a Tuesday). Our first meeting will be 9/15/15. Subsequent meetings will be on 9/29, 10/6, 10/27, 11/10, 11/24, and 12/8. Since the goal of the workshop is for participants to learn how to do these things themselves, all are asked to bring laptops in order to follow along with the demos.

The structure of the workshop will follow that laid out in the book, Statistics for Linguistics with R: A Practical Introduction, by Stefan Th. Gries.

A note on attendance: Topics will build upon those that precede them. Which is to say that to get the most out of the workshop, participants should plan to attend every meeting.

If you are interested, here are the next steps:
Write to Professor Erker (danerker@bu.edu) expressing your intent to participate in the workshop.
Buy the book and read the first chapter.
Install R and RStudio on your laptop.
Commencement 2015
Congratulations to our 2015 graduates! See some pictures on our Facebook page:
Video records of recent Linguistics presentations
Have you missed one of our recent invited lectures? Members of the BU community can watch the video and follow along with the slides :-)

http://www.bu.edu/linguistics/lectures.html.
Requirements for the Linguistics Major - modified as of September 2011
The current requirements for the linguistics major apply to students who declared their major no earlier than Fall of 2011. Students who declared their major prior to September of 2011 will be expected to fulfill the requirements in effect at that time, although they may elect to fulfill the newer requirements instead by so notifying the CAS Records Office (and their advisor). Please address any questions about this to your advisor.
Joint Majors in Linguistics & French/Italian/Japanese/Spanish
New !! Brochures for the joint majors in French/Italian/Japanese/Spanish & Linguistics. You can print them out yourself (2-sided, flip short side) or stop by to pick one up from the entryway to 621 Commonwealth Ave.: http://www.bu.edu/linguistics/UG/joint/FrenLx.pdf, http://www.bu.edu/linguistics/UG/joint/ItalLx.pdf, http://www.bu.edu/linguistics/UG/joint/SpanLx.pdf
In addition to our joint major in Linguistics & Philosophy (Hegis code: 1514), we are now pleased to be able to offer joint majors that combine the study of linguistics with that of language, literature, and culture. Here's some informationabout these majors (and the corresponding honors programs):
French & Linguistics (Hegis code: 1147)
Italian & Linguistics (Hegis code: 1148)
Japanese & Linguistics (Hegis code: 1149)
Spanish & Linguistics (Hegis code: 1150)
There is also the Linguistics major itself, of course (Hegis code 1505).

You can now change your major or minor declarations online: http://www.bu.edu/casadvising/major-minor-declaration-form/.
Be sure to list all your majors and minors if you are making any kind of change.


For further information, contact Prof. Neidle.
Prof. Danny Erker studies the Spanish spoken in Boston
He is featured in BU Today: http://www.bu.edu/today/2013/a-language-evolves/

Danny Erker, in East Boston's Maverick Square, has been visiting the city's neighborhoods to recruit subjects for his linguistics research. Photo by Cydney Scott, BU Today.
Fall Newsletter - 2014
Check out the latest Linguistics newsletter !
Alumni Notes/News
See our Alumni Notes page. Please let us know what you're up to. Send your news and photos. We'd love to hear from you :-)
BULA on the Web
Check out the site for the BU undergraduate Linguistics Association: http://bula.bu.edu.

BULA also has a Facebook page: https://www.facebook.com/pages/Boston-University-Linguistics-Association/142505152475244.

Events are open to the BU community, and if you'd like to help in planning future events, new BULA members are always welcome :-)
CAS Linguistics Facebook Page
Have a look: https://www.facebook.com/BULinguistics.
We welcome your suggestions about what else you would like to see there... Thanks!
Follow BU Linguistics on Twitter
Here's what you can find here:
News
People
Courses
Academic Programs
Events
Linguistics Info
Resources